Fashion lovers, get ready! The Country Club Plaza of Kansas City is getting luxury label upgrades in the coming months. First up is Kate Spade New York, the famed handbag and accessories designer (and sister to actor David Spade, or course) opening a 1,500 square foot shop on September 22nd. The mega store will be packed with Spade's apparel, handbags, jewelry, shoes, stationary, eye wear, and hosiery. The designer herself hails from Kansas City.
The Kansas City movers also hear from KansasCity.com that there will be a luxurious neighbor popping up next door to Ms. Spade–Michael Kors. We know Kansas City and surrounding areas are excited for this late Summer/early Fall upgrade to the shopping scene. For those of you moving to the area, rest assured you won't be without big labels in your new hometown.
Get ready to do some serious shopping, Kansas City!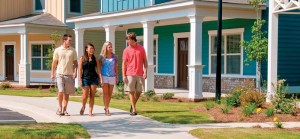 This entry was posted in